Main Page
Knowledge base for FAIR and open energy research data
EU-project EERAdata in brief
The EU-funded project EERAdata was implemented from 03/2020-02/2023. It was a project exploring pathways towards a FAIR and open data ecosystem in the low carbon energy research community. FAIR stands for F-findable, A-accessible, I-interoperable, and R-re-usable. The consortium developed, tested, and implemented FAIR and open data guiding principles in different use cases, which was done in a series of community workshops. EERAdata was all about learning together!
Motivation. The re-analysis potential for energy research databases is unexploited as the majority of databases are unfit for deploying automated analytical tools. However, an integrated and transparent management of energy data with useful metadata information and quality assurance provides the basis for society to choose, monitor, implement, and realize sustainable transition pathways. In addition to the implementation of FAIR data principles, open science research plays a key role in this respect because it enables the detection of conflicts across findings in different disciplines and the harvesting of synergies at the outset. See also our page and deviberable on the analysis of gaps and barriers.
EERAdata logo and key visual
. The elements of the logo include
data points
- symbolizing databases or data platforms - and a
data folder
which are connected through the
feed symbol
. All stand for the idea of EERAdata to support FAIR and open data. The folder furthermore is a nostalgic reminder of the grand library catalogs to search for books, all of them are masterpieces on their own.
Key exploitable results
KER 4: Use case insights and methods
KER 5: FAIR and Open data business models exploration
KER 6: Thinking beyond the EERAdata project - The future of FAIR and open energy research data (D24)
KER 7: Analysis of gaps & Research & policy recommendations (D2.3)
KER 8: Trained FAIR data stewards (see speakers in workshops and links to project partners)
Peer-reviewed publications:
Wierling A, Schwanitz VJ, Altinci S, Bałazińska M, Barber MJ, Biresselioglu ME, Burger-Scheidlin C, Celino M, Demir MH, Dennis R, Dintzner N, el Gammal A, Fernández-Peruchena CM, Gilcrease W, Gładysz P, Hoyer-Klick C, Joshi K, Kruczek M, Lacroix D, Markowska M, Mayo-García R, Morrison R, Paier M, Peronato G, Ramakrishnan M, Reid J, Sciullo A, Solak B, Suna D, Süß W, Unger A, Fernandez Vanoni ML, Vasiljevic N. FAIR Metadata Standards for Low Carbon Energy Research—A Review of Practices and How to Advance. Energies. 2021; 14(20): 6692. https://doi.org/10.3390/en14206692
Schwanitz, V.J., Wierling, A., Biresselioglu, M.E. et al. Current state and call for action to accomplish findability, accessibility, interoperability, and reusability of low carbon energy data. Sci Rep 12, 5208 (2022). https://doi.org/10.1038/s41598-022-08774-0
Arghandeh Paudler HJ, Schwanitz VJ and Wierling A. Realizing a human-centered digitalization of the energy sector [version 1; peer review: 1 approved]. Open Res Europe 2022, 2:140. https://doi.org/10.12688/openreseurope.15129.1
Wierling, A. and Schwanitz, V.J. Implementing the FAIR data principles for a European database on citizen-led energy projects. In prep.
Harvesting the value of data & Harvesting the value of low carbon energy research data, Schwanitz, V.J., Arghandeh Paudler, H.J. In prep.
Policy briefs
Use cases
List of project partners
Myths around FAIR and open data
FAIR data is when humans can find, access, and reuse data
That is wrong, because FAIR data is first and foremost about machine-actionability, so that they can be at the service of humans.
FAIR data is the same as open data
Incorrect. In fact, both concepts are very different. Open data is available for free. FAIR data can be free or purchased. However, one aspect of FAIR data must be open in order to be FAIR - and that is metadata. Metadata is data about data, meaning what the data is. This means that it is a problem if metadata has to be purchased. So, as long as industry standards such as ISO norms are not available open and for free, data cannot be FAIR.
FAIR is just a fancy label
Definitely not, although the danger of an empty label exists. In reality, substantial effort is needed to make data FAIR. Data governance requires highly skilled personnel and sufficient resources. It is not possible to have a project and afterwards data is FAIR once and for all. Instead, continuous efforts are needed, similar to general data cleaning and maintenance.
To make data FAIR is of self-interest to any researcher
It is true that it is of interest to a researcher that her data is reused and well documented. However, the prime interest of a researcher is to do research and not to clean data. Researchers want FAIR data if and only if they are able to have more time afterwards for doing research.
Markets for FAIR and open data exist
If that were true, we would not have projects like EERAdata to figure out how to approach FAIRification in the energy and other domains. Indeed, we only identified a few examples where business models have actually been realized. It is a niche market and not yet mainstream. Policy support is needed to finance experiments and mature business concepts.
Workflow to FAIRify data
FAIRification Workflow. Steps in the FAIRification workflow (see picture to the right):
Pre-FAIRification
FAIRification FAIRification
Post-FAIRification
Central for FAIRification: rich and open metadata!
EERAdata Community Platform
In Work Package 3, EERAdata has developed a web-based platform to support FAIR data in the low carbon energy research community. The platform provides easy-to-use access to
Data search: interlinked energy databases in a uniform and seamless way,
Knowledge base: extensive information on FAIR (Findable, Accessible, Interoperable and Re-usable) data,
FAIR data workflow: a guide on how to implement a FAIRification workflow for a given data resource,
Metadata creator: specific tools to create and edit metadata in a standardised, machine-readable form and adding it to the EERAdata metadata repository, and
Community embedding: a large number of FAIR activities in the energy research community and beyond.
The platform builds on the experience and the content created in the EERAdata Use Cases as well as the community building and workshop process of EERAdata.

Access the EERAdata Community Platform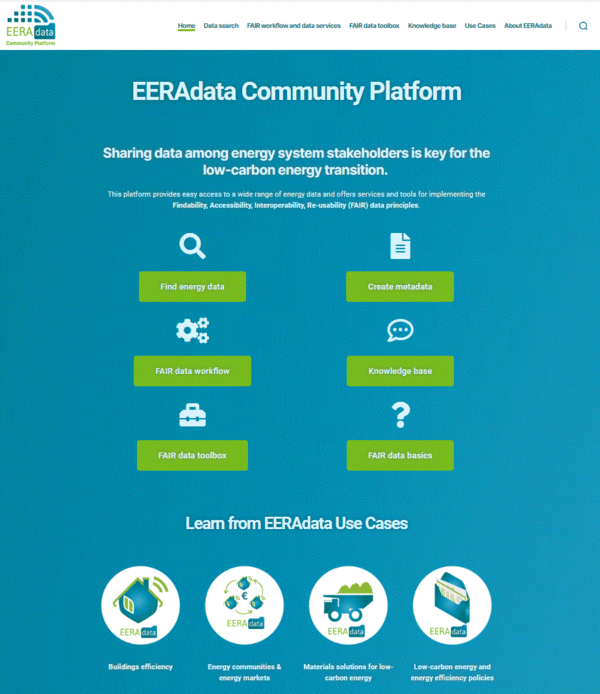 Figure: Entry page of the EERAdata Community Platform
Initiating FAIRification in a research community - EERAdata's method
Initiating FAIRification in a research community. The method developed in the EERAdata project, might be useful for others who aim at FAIRification in a research community. Vast resources, including how to prepare workshops and how to write a community paper have been put together by us.
In brief: The workshop concept of EERAdata is developed along with the Index to FAIR Action Plan as recommended by EC Expert Group on FAIR data, 2018. More specifically, the testing and discussion of the FAIR/O ecosystem (incl. the community platform) are organized through a series of workshops that take place twice a year with sequential annual foci. Each workshop takes three days. The first day is dedicated to state of the art for each workshop topic. Experts from the energy and other research communities are invited to present best practices (ensuring the participation from institutions providing research infrastructure, academia, and industry and private sector persons). Mutual learning and exchange of knowledge are facilitated in moderated discussions following presentations. The first day advances the understanding of cutting-edge concepts and approaches towards FAIR/O data (e.g., the role of metadata, data management plans, metrics, incentive mechanisms, etc.). The second day uses the knowledge and understanding obtained during the first day to translate the concepts and approaches to the domain of low carbon energy research data at the level of selected use cases. The goal is to understand the ways of data discovery and to synthesize metadata from mental models of domain experts (otherwise proposed metadata will remain artificial and, thus, not used in the community). Hence, the work done during the second day takes place in parallel groups structured around use cases (see details below). The key participants of workshops are consortium members for each use case and the groups of stewards of FAIR/O data principles recruited from invited experts. The third day synthesizes, integrates, and concludes the results achieved during the first two days (e.g., unifying and linking metadata across use cases). First, discussed concepts and approaches for the FAIR/O ecosystem, as well as the community platform, are refined. This continuously shapes the main deliverables of the workshops. Second, the agenda of the next workshop is agreed upon and specified with respect to experts to be invited and topics to be addressed. It should be noted that the first and the second day are open to participants from outside of the consortium to allow community-wide participation in EERAdata.
1st Year: Define. Concept for FAIR implementation. Skills for FAIR.
2nd Year: Implement. FAIR culture. FAIR Ecosystem. Skills for FAIR.
3rd Year: Embed & sustain. Incentives, metrics, and investments for FAIR data and services.
EERAdata organized two community workshops in each year, namely:
Lessons learned from the EERAdata project are feeding the EERAdata platform and knowledge base.
Glossary with interlinked entries