Initiating FAIRification in a research community - EERAdata's method
Initiating FAIRification in a research community - EERAdata's method
Why FAIR and open?
The prospects for the digitalization of the energy sector have been stated by many and for quite some time now. Business opportunities appear to be large. Science and R&D could be propelled enormously, with these innovations being able to lead into a new technology revolution. This revolution has the potential to be a grand energy transition, inclusive of the vision of a green and just transition. However, the advertised dreams will not become a reality unless the challenges of data accessibility, data interoperability, and data reusability are solved.

This is precisely what the EERAdata project undertakes, from the perspective of low carbon researchers. Currently, it is quite unclear how, and even more importantly, who is going to invest in making data fit for playing its designated role. Business models for FAIR and open energy data are entirely lacking. The problem starts with the difficulties in answering "How to estimate the value that lies in energy data?" Answering the question, however, is a precondition for functioning energy data markets. Understanding the factors that drive the value of data, in general, is necessary to unpack data management costs.

For most researchers, the implementation of FAIR and open data principles continues to be an expensive side activity with few accompanying merits. Furthermore, institutions frequently assign general data administrators who often lack domain expertise and hence offer little support. As a result, the overall commitment to FAIR and open data among low carbon researchers is mediocre. A lost potential for scaling up valuable lessons learned from use cases and projects ensues. The limited resources available for research projects further compounds the problem. Finally, funding policies require the minimization and mitigation of risks. Yet, with the implementation of FAIR and open data principles, uncharted territory is to be explored, and the business sector demonstrates that it is possible to attract hundreds of companies to join the effort.

Read more in <add publication when ready>
EERAdata and low carbon research
The re-analysis potential for energy research databases is unexploited as the majority of databases are unfit for deploying automated analytical tools. This generates an ever increasing cemetery of both databases and data-driven research projects, causing lost opportunities arising from advanced ICT solutions. Since the transition toward low carbon, sustainable energy systems requires the integration of interdisciplinary and complex data, the lack of interoperability and machine-readability of energy data exacerbates the problem.
Furthermore, it is not sufficient to only account for physical and technical attributes, but also for socio-economic and environmental ones. Without these dimensions, society will be misinformed about the consequences of the upcoming fundamental systemic changes, hindering the building of acceptance and creation of ownership for energy transition. Thus, an integrated and transparent management of energy data with useful metadata information and quality assurance provides the basis for society to choose, monitor, implement, and realize sustainable transition pathways.
Open science research plays a key role in this respect because it enables the detection of conflicts across findings in different disciplines and the harvesting of synergies at the outset. Moreover, open science appears to shorten the time it takes from research results to research applications. Given the immense pressure to take action to tackle climate change and sustainable development, its importance for low carbon research is further emphasized. Therefore, databases need to adhere to principles of FAIR and open data, where FAIR stands for Findable, Accessible, Interoperable, and Re-usable.
Myths around FAIR data
FAIR data is when humans can find, access, and reuse data. Wrong, because FAIR data is about machine-actionability (at the service for humans).
FAIR data equals open data. Both concepts are different. FAIR data can be offered as a paid service. However, metadata has to be open. Consequently, as long as ISOs are not availably open and for free, data cannot be FAIR.
FAIR is just a label. No, substantial effort is needed to make data FAIR. Data governance requires highly skilled resources - not on a project base but continuously.
To make data FAIR is of the interest of a researcher. No, it is beyond the capability of a researcher.
Markets for FAIR and open data exist. No, if then only in the form of niche markets if at all. (See how long it takes to enter mainstream markets).
Overview on FAIR and open data resources
In 2016, Wilkinson et al. published a seminar paper, introducing the FAIR guidance principles.
Selected references on data sharing
EERAdata's method
Workshop concept of EERAdata
The workshop concept of EERAdata is developed along with the Index to FAIR Action Plan as recommended by EC Expert Group on FAIR data, 2018 More specifically, the testing and discussion of the FAIR/O ecosystem (incl. the community platform) are organized through a series of workshops that take place twice a year with sequential annual foci. Each workshop takes three days. The first day is dedicated to state of the art for each workshop topic. Experts from the energy and other research communities are invited to present best practices (ensuring the participation from institutions providing research infrastructure, academia, and industry and private sector persons). Mutual learning and exchange of knowledge are facilitated in moderated discussions following presentations. The first day advances the understanding of cutting-edge concepts and approaches towards FAIR/O data (e.g., the role of metadata, data management plans, metrics, incentive mechanisms, etc.). The second day uses the knowledge and understanding obtained during the first day to translate the concepts and approaches to the domain of low carbon energy research data at the level of selected use cases. The goal is to understand the ways of data discovery and to synthesize metadata from mental models of domain experts (otherwise proposed metadata will remain artificial and, thus, not used in the community). Hence, the work done during the second day takes place in parallel groups structured around use cases (see details below). The key participants of workshops are consortium members for each use case and the groups of stewards of FAIR/O data principles recruited from invited experts. The third day synthesizes, integrates, and concludes the results achieved during the first two days (e.g., unifying and linking metadata across use cases). First, discussed concepts and approaches for the FAIR/O ecosystem, as well as the community platform, are refined. This continuously shapes the main deliverables of the workshops. Second, the agenda of the next workshop is agreed upon and specified with respect to experts to be invited and topics to be addressed. It should be noted that the first and the second day are open to participants from outside of the consortium to allow community-wide participation in EERAdata.
1st Year: Define. Concept for FAIR implementation. Skills for FAIR.
2nd Year: Implement. FAIR culture. FAIR Ecosystem. Skills for FAIR.
3rd Year: Embed & sustain. Incentives, metrics, and investments for FAIR data and services.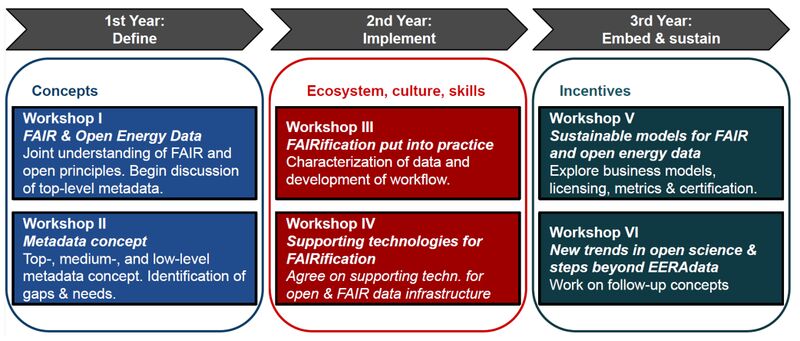 Writing a community paper
A community-led paper was chosen as an initiative for different reasons:
Firstly, the advancement of metadata practices to fill the gaps that hinder low-carbon energy research affects the global community. Existing gaps and needs cannot be looked at myopically as a researcher's problem. They are generalized issues that will continue to negatively affect the FAIR and open data ecosystem in low-carbon energy if urgent steps are not taken to change the current narrative and practices.
Secondly, constructive inputs from a wider community open up transparent discussions about metadata and tap into a diversified knowledge base. Resilient solutions for the current issues that hinder the advancement of metadata standards should be formed by all stakeholders from the broad community.
Thirdly, expert practitioners' input enabled non-specialists to understand current research on specific topics better and generate further interest that influences change.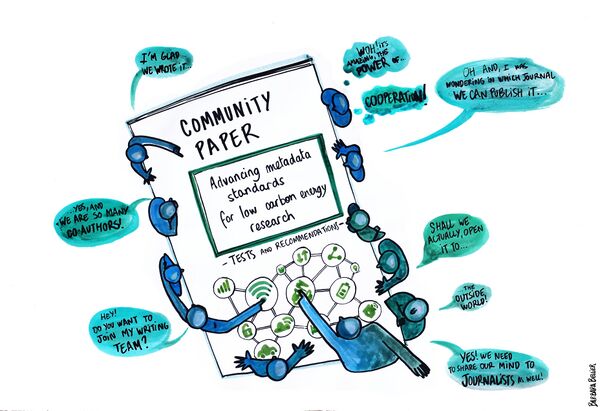 The writing kicked off in the context of Workshop II. To outline the context, an initial working draft was provided to participants, including a list of relevant literature and projects.
1) As a first step, existing metadata needs and practices with low-carbon energy data were compiled and discussed; 2) as a second step, criteria to evaluate metadata practices were derived from reviews and discussions; and 3) as a third step, the gathered information on metadata practices (step 1) was jointly considered and explored in use cases to synthesize insights on advancing metadata practices for supporting the different users of low-carbon energy (meta)data.
In parallel, three writing teams were suggested on the first day of the workshop to facilitate discussions and contributions on the topic. The insights from steps 1 to 3 guided the direction for the sessions of Workshop II and the community contributions from the different writing teams.
The teams collaborated in breakout rooms or independently according to their preferred choices, using as support different online tools.
In a first framing session, the roles were the following:
Writing Team 1 focused on the literature review to compile a list of credible sources that presented specific research on data and metadata for low-carbon energy. The collaborative effort provided literature identifying gaps and needs in data and metadata energy research. At the end of the sessions, participants discussed their findings with a specific focus on highlighting how their research aligned with the needs of the community paper. Assigned coordinators vetted the quality of the contributions.
Writing Team 2 focused on identifying existing metadata concepts in the energy domain, encouraging fruitful discussions about the findings.
Writing Team 3 was tasked with identifying existing platforms in the energy domain to support metadata access and search services. Similar to the other teams, discussions on the topic were encouraged, and a questionnaire on user stories was developed.
During a second framing session, different tasks were assigned:
Writing Team 1 was tasked with identifying unresolved entries in the working draft and, if possible, addressing these.
Writing Team 2 was tasked with identifying recommendations for advancing metadata standards for low-carbon energy research.
Writing team 3 laid the groundwork for a roadmap aligned with the recommendations from Writing Team 2.
The content for the paper was jointly created, discussed, and synergized to stimulate community-wide discussions on how to advance metadata practices and standards for low-carbon energy data. A timeline was presented for lead authors to review the paper and submit it for feedback to the writing teams. The draft was distributed to all workshop participants for additional content and final review.
The figure below sketches how different workshop sessions contributed to individual sections.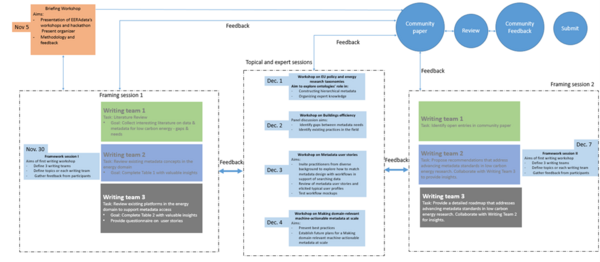 List of workshops
Workshop 1 Fair & Open Energy Data
WS I "Fair & Open Energy Data"
Workshop 2 Metadata concept
Workshop 3 FAIRification put into practise
WS III "FAIRification put into practise"
Workshop 4 Supporting technologies for FAIRification
WS IV "Supporting technologies for FAIRification"
Workshop 5 Sustainable models for FAIR and open energy data
WS V "Sustainable models for FAIR and open energy data"
Workshop 6 New trends in open science & steps beyond EERAdata
WS VI "New trends in open science & steps beyond EERAdata"
Use cases in EERAdata
Definition: Use cases are an exercise for testing and refining the general approach towards FAIRification and opening of databases as well as to testing and refining the community platform. Altogether 4 use cases were selected:
EERAdata Community Platform
In Work Package 3, EERAdata has developed a web-based platform to support FAIR data in the low carbon energy research community. The platform provides easy-to-use access to
Data search: interlinked energy databases in a uniform and seamless way,
Knowledge base: extensive information on FAIR (Findable, Accessible, Interoperable and Re-usable) data,
FAIR data workflow: a guide on how to implement a FAIRification workflow for a given data resource,
Metadata creator: specific tools to create and edit metadata in a standardised, machine-readable form and adding it to the EERAdata metadata repository, and
Community embedding: a large number of FAIR activities in the energy research community and beyond.
The platform builds on the experience and the content created in the EERAdata Use Cases as well as the community building and workshop process of EERAdata.
The platform is maintained by the AIT Austrian Institute of Technology.

Access the EERAdata Community Platform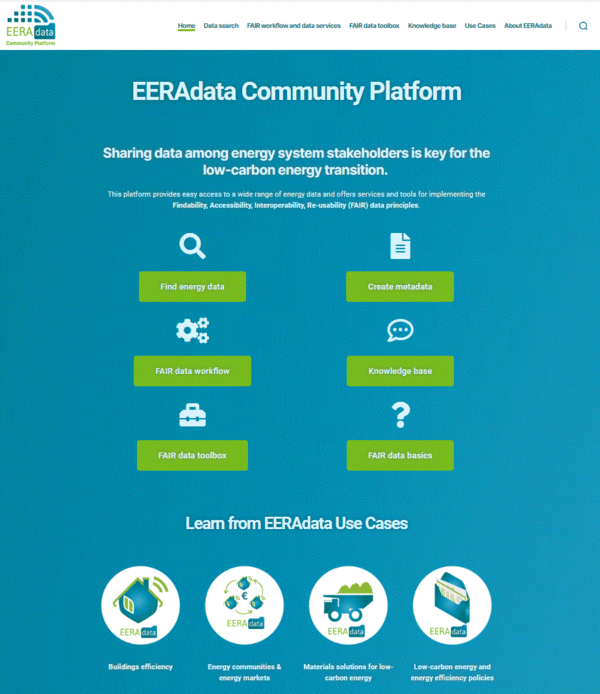 Figure: Entry page of the EERAdata Community Platform
EERAdata key deliverables
Peer-reviewed publications
Wierling A, Schwanitz VJ, Altinci S, Bałazińska M, Barber MJ, Biresselioglu ME, Burger-Scheidlin C, Celino M, Demir MH, Dennis R, Dintzner N, el Gammal A, Fernández-Peruchena CM, Gilcrease W, Gładysz P, Hoyer-Klick C, Joshi K, Kruczek M, Lacroix D, Markowska M, Mayo-García R, Morrison R, Paier M, Peronato G, Ramakrishnan M, Reid J, Sciullo A, Solak B, Suna D, Süß W, Unger A, Fernandez Vanoni ML, Vasiljevic N. FAIR Metadata Standards for Low Carbon Energy Research—A Review of Practices and How to Advance. Energies. 2021; 14(20): 6692. https://doi.org/10.3390/en14206692
Schwanitz, V.J., Wierling, A., Biresselioglu, M.E. et al. Current state and call for action to accomplish findability, accessibility, interoperability, and reusability of low carbon energy data. Sci Rep 12, 5208 (2022). https://doi.org/10.1038/s41598-022-08774-0
Wierling, A. and Schwanitz, V.J. Implementing the FAIR data principles for a European database on citizen-led energy projects. In prep.
Harvesting the value of data & Harvesting the value of low carbon energy research data, Schwanitz, V.J., Arghandeh Paudler, H.J. In prep.
Key exploitable results
KER 4: Use case insights and methods
KER 5: FAIR and Open data business models exploration
KER 6: Thinking beyond the EERAdata project - The future of FAIR and open energy research data (D24)
KER 7: Analysis of gaps & Research & policy recommendations (D2.3)
KER 8: Trained FAIR data stewards (see speakers in workshops and links to project partners)
Policy briefs
Harvesting the value of low carbon energy research data [insert link]

The prospects for the digitalization of the energy sector for a just, green, and economically viable energy transition have previously been stressed. However, these prospects will not be realized unless the challenges of data accessibility, data interoperability, and data reusability are solved. Substantial intellectual and financial investments are required to make data fit for the digital age with autonomously acting agents in the energy sector.

Realising a human-centred digitalisation of the energy sector

The digitalisation of the energy sector is happening. A human-centred design approach is needed to ensure that it takes place with and for the benefit of the people. This document presents the concept of human-centred digitalisation of the energy system and puts forward policy recommendations for it to happen in an affordable, sustainable and fair manner. The main findings include the need for people to access tailored and ready-for-use tools that help realise societal co-benefits, bring individual gains, remove legal, informational and technical hurdles and ultimately ensure just participation of all societal groups. Substantial additional resources are required to develop digital tools and products to seize opportunities for citizens to engage, optimise energy consumption and manage active participation in the energy system.