FAIRifying data - workflow
The page provides access to tools and resources for FAIRifying data. It includes services developed in the project but as well compilations of resources available from other projects and initiatives. The page is structured along the FAIRification workflow developed in EERAdata (see the figure to the right).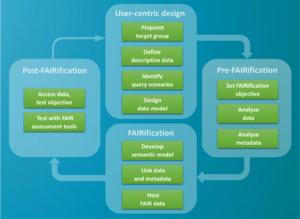 User-centric database design
User-centric database design There is a vast literature on user-centric design principles and co-creation practices. It is recommended to organize stakeholder workshops to inquire user needs and develop user-centric query scenarios for the data. See also use case 2 descriptions for an example from the FAIRification of a database on citizen-led energy initiatives. See also Arghandeh Paudler, Wierling & Schwanitz 2022 on a general overview on realizing a human-centered digitalization of the energy sector.
Pre-FAIRification
A proper understanding of the data and metadata is essential for carrying out any FAIRification activity. If the data are own data or coming from an in-house activity, such an understanding may come easily. The EERAdata service points users to issues that need to be addressed and (semi)automatic tools available in support. Metadata is information added to the data to increase its functionality, capturing the context of data and being closely tied to traceability, reproducibility, and transparency of research data.
How to prepare data and metadata for FARification?. Data and metadata are central for the implementation of FAIR guidance principles. Check out the links for more information:
FAIRification
FAIRification] includes semantic modeling, linking data and metadata, and hosting the FAIRified resources. Controlled vocabularies are key to improve the interoperability of data and metadata. RDF and JSON-LD are formats that help linking data and metadata.
Post-FAIRification
In this step, the FAIRification process is assessed. Several manual and semi-automatic tools are available for that purpose. The FAIRification workflow has a circular structure, because the reuse of data may bring up new FAIRification aspects. Therefore, user feedback has to be collected and addressed. Supporting tools and services to facilitate this step can be accessed from the links listed below.
Glossary
To be linked.